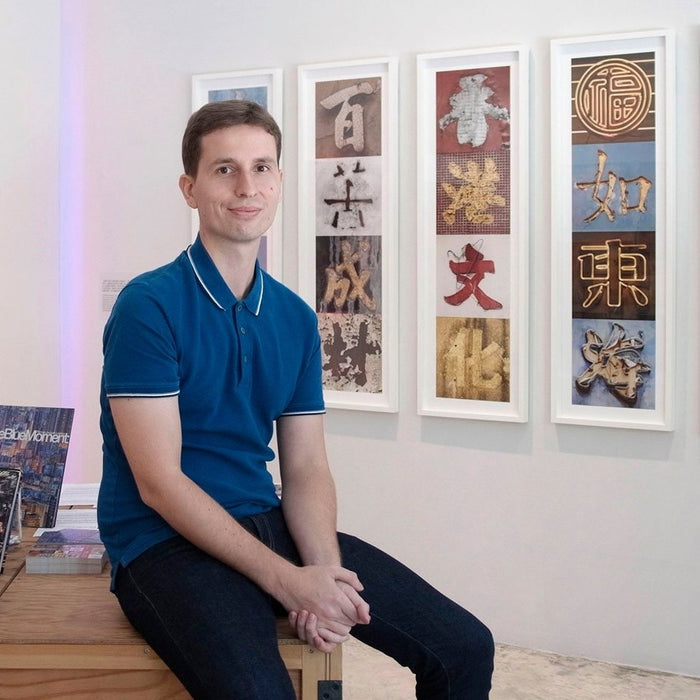 Romain Jacquet-Lagrèze is a French graphic artist with a Masters in multimedia and art from East Paris University. His interest in photography began during his period of working in Los Angeles and Tokyo, and subsequently blossomed into a passion after his arrival in Hong Kong. Stunned by its architectural 'race in the sky', he felt the need to use his camera to share his feelings about the city. The geometry of the urban environment and the vivid lives it shelters are the aspects of Hong Kong that inspire him most. The Blue Moment is his third photography book after Vertical Horizon (2012) and Wild Concrete (2014).
browse artist's collection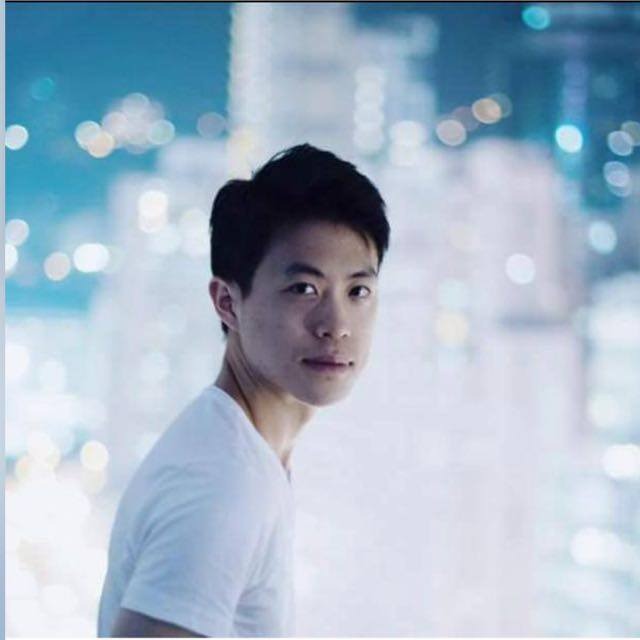 Justin started photographing back in 2014 when he took a one-way flight to East Africa to document Chinese development for a year. Since then, he has drawn on his background in architecture to explore themes that engender land development, absence, memory, and globalisation. Besides photography, he also uses mediums such as archival research, mapping, and found material. He lives and works between New York and Hong Kong.
browse artist's collection
Todd R. Darling, an American documentary photographer, has been based in Hong Kong as a restauranteru for nearly two decades. He studied Documentary Practice and Visual Journalism at the International Centre of Photography in 2016, and the Eddie Adams workshop XXX in 2017.
In 2021, Todd completed work on a documentary project that began in 2016, about Paterson, New Jersey. The project Idyll, inspired by local poets William Carlos Williams and Allen Ginsberg, is a lyrical interrogation of the American dream told through the singular experience of the country's first industrial city and its people.
He is currently studying at the Savannah College of Arts and Design.
browse artist's collection
Daido Moriyama was born in Osaka in 1938. After studying photography under Takeji Iwamiya and serving as an assistant to photographer Eikoh Hosoe, he started his freelance career in the 1960s and crafted his own snapshot style under the influence of numerous Japanese and Western artists. 
His solo works have been published and displayed in many local and international exhibitions, and can be seen at Fondation Cartier pour l'art Contemporain (Paris), Metropolitan Museum of Art (New York), The Museum of Modern Art (New York), Tokyo Metropolitan Museum of Photography (Tokyo), and other public collections worldwide. 
Moriyama's artistic achievements have won him the New Artist Award from the Japan Photo Critics Association (1967), the Photographer of the Year Award from the Photographic Society of Japan (1983), Der Kulturpreis der Deutschen Gesellschaft fur Photographie (2004), the Lifetime Achievement Award from the International Center of Photography (2012), and many others.
browse artist's collection
Born in 1960, Anothermountainman (aka Stanley Wong Ping-pui) is a diverse and vivid character: a photographer, artist, designer and educator. After graduating from the Hong Kong Technical Teachers' College (Design & Technology) in 1980, he pursued a career in design and advertising. In 2002 he co-founded Threetwoone Film Production Limited, a company specialising in film production for advertising.  
A year later he was inducted into the Allian ce Graphique Internationale. His passion for art and photography combines and with his interest in social and local issues to produce works of unusual power. Wong's signature work, the redwhiteblue series, represented Hong Kong at the 51st Venice Biennale in 2005. He has won more than 400 awards in graphic design, advertising, photography and art, and his works are exhibited and collected by museums locally and abroad. He has been actively engaged in tertiary education since 1996, helping to cultivate Hong Kong's next generation of creative talents. 
browse artist's collection
Hong Kong-born Almond Chu began his career as a professional photographer and photographic ar tist in 1986 after graduating from the Tokyo College of Photography. His talents began to gain wide recognition in 1993 when he received an Agfa Fellowship Young Photographer Award from the Asian Culture Council. In 2004, he was invited to speak at the influential 'International Literary and Aesthetic Symposium' organised by Bonn University and the Art & Exhibition Hall of Deutschland, Germany. His work has been prominently exhibited in Germany, Italy, Denmark, Canada, Japan, China and New Zealand, and is widely collected by corporations, museums and individual connoisseurs. 
browse artist's collection
Born in Hong Kong during the postwar baby boom, Alfred Ko was educated in Photography Studies at The Banff School of Fine Arts in Alberta, Canada. He returned to Hong Kong in 1977 and has worked as a freelance photographer ever since. 
In the 1980s, Ko founded the Fotocine School of Photography, which was to become a nurturing ground for many professional photographers in Hong Kong. In 1982 and 1987 respectively, he co-founded The Photo Centre and the Hong Kong Institute of Professional Photographers, acting as the latter's Chairman from 1989 to 1992. Ko has also taught extensively at tertiary institutions in Hong Kong and China in recent years.  
Ko's works have been widely exhibited locally and internationally. A collection entitled The Forbidden City was named 'Champion Book of the Year' in 1983 by the Urban Council of Hong Kong. His artistic achievements later won him 'Best Photographer' honours in 1992 from the Hong Kong Artists Guild. His works can be seen at the Hong Kong Heritage Museum and in private collections. 
browse artist's collection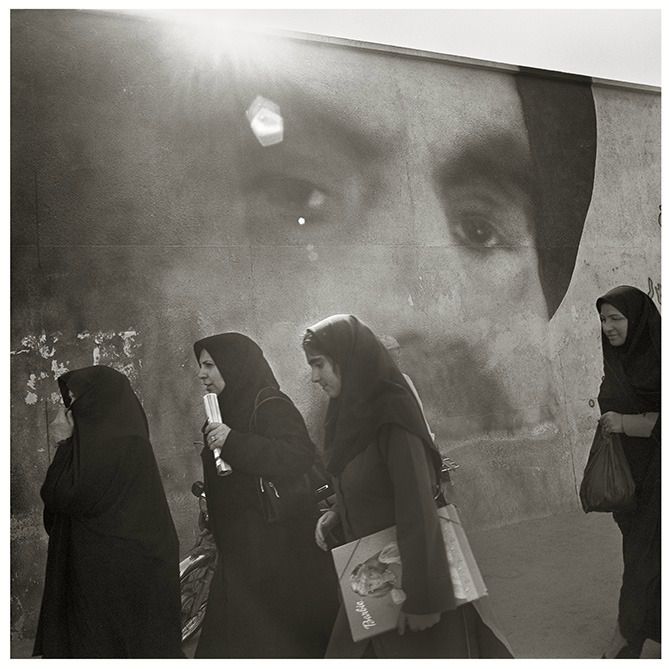 Hong Kong-born Chun Wai received his artistic education in sculpture at Le QuaiÉcole supérieure d'art de Mulhouse in France, and went on to work as a sculptor and teacher as well as developing his technique as a photographer. Central to his photographic style is his belief in portraying the essence of reality. Grounded in realism and rich in social connotation, Chun's images have an uncompromising quality, with the artist painstakingly waiting for his subjects to naturally respond to his camera in their own time and space. Over the years, he has documented the beauty and compassion of life in photos that have the power to transcend social and geographic boundaries to expose a sublime universal human truth. 
browse artist's collection
Huang Rui is a Chinese contemporary ar tist who creates two- and three-dimensional installations and performance works. Widely considered to be a founding member of the Chinese contemporary art movement, he continues to produce socially engaged works that resonate with satire and historical references. 
In the late 1970s, Huang was a founding member of the Chinese avant-garde art group the Stars along with Wang Keping, Ai Weiwei, Ma Desheng and Li Shuang. This groundbreaking group of amateur artists was the first to use art to publicly protest government censorship after the Cultural Revolution. 
Huang's early works referenced Western artistic styles such as Expressionism, Abstract Expressionism, Fauvism and Cubism. His style developed along more original lines as he delved into experimentation and began exploring other mediums including photography, printmaking, installation and performance art. 
browse artist's collection
Jeanie Leung loves art. She is tireless in her efforts to touch people's hearts with her drawings and paintings. 
Born and raised in Hong Kong, Jeanie immersed herself in the banking industry for a couple of years after earning a business degree from The Hong Kong University of Science and Technology. Her childhood dream of becoming an artist went unrealised until she left her stable job to pursue a new life as a full-time illustrator – though she had never received formal art training. 
Since the release of her debut picture book A Time for the Heart (2010), Jeanie's talents have been further showcased in a second book and a solo exhibition, both sharing the title Smile, please (2011). In 2012, an official line of 'Oowa' merchandise, the Chinese-language edition of her previous books and her third book The Song of Memory were launched.
browse artist's collection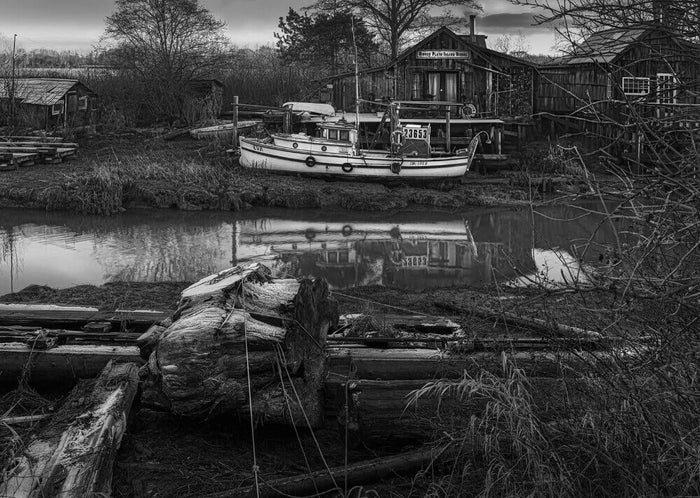 Sand Wan is a fine art photographer and a member of the Chinese Canadian Artists Federation of Vancouver. 
Born in 1949 in Hong Kong, Sand graduated from the Hong Kong Polytechnic obtaining a Foundation Design Certificate. While he was in Hong Kong, he was engaged in the publishing business and graphic design, having won numerous awards in Hong Kong and international design competitions.
browse artist's collection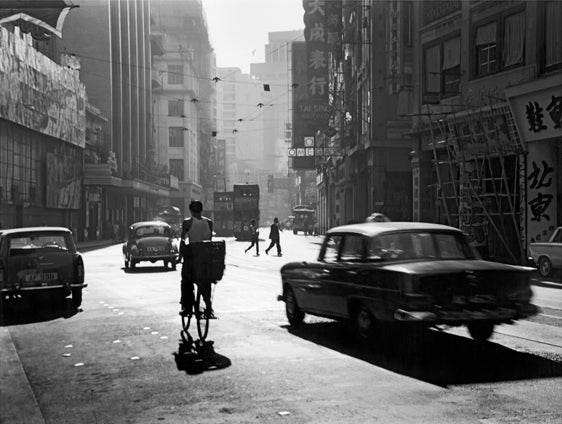 Mak Fung (1918-2009) was for decades the executive editor of Photo Pictorial, the longest running local photography magazine. He authored an extensive collection of works on photography, and his albums Fung Mak Portfolio: The Wind, The Sunshine, and The Foliage and Mak Fung: Hong Kong Once Was were published in 1992 and 1997 respectively. Mak had for years taught for the Hong Kong Chinese Clerks Association and the Chinese General Chamber of Commerce, where he inspired generations of Hong Kong's photography lovers. He was made an Honourary Fellow of the Chinese Photographic Association, Asian Photographic Association of Singapore, and a Life Honourary Chairman of the Seagull Photographic Association. 
browse artist's collection
Julian Lee is a multi-talented Hong Kong-based ar tist who creates works in multiple media, including film, photography and literature. He is a renowned photographer with international exhibition credits and has written more than seventeen books, including four novels and three story collections. He has written and directed two films, NIGHT CORRIDOR 妖夜迴廊 and THE ACCIDENT 心猿意馬, both adapted from his own novels. He merges different media into a visual and textual playground in which his photos, films and fiction explore themes of forbidden love and exotic sensuality.
browse artist's collection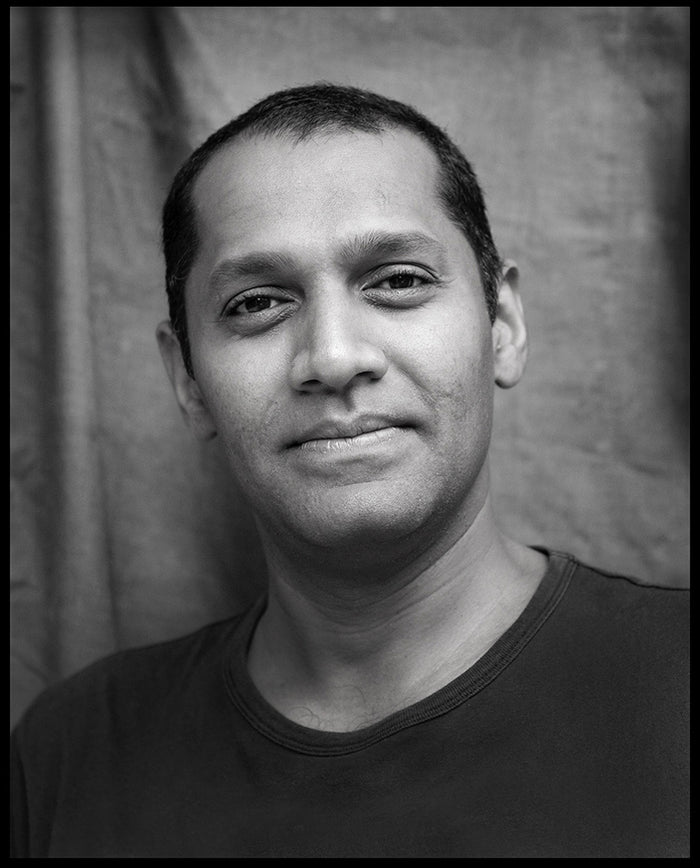 A professional photographer for over 20 years, Palani Mohan began his career at the Sydney Morning Herald, Australia's leading photographic newspaper. He has since come to be widely regarded as a leading documentary photographer, his images having been published such respected publications as National Geographic, Time, Newsweek, Stern, The New York Times, and GEO. His long lists of awards include World Press Photo, POYi, PDN, American Photo, Communication Arts, Sony International, Japan Days, China International, and PX3. Vivid Hong Kong is his fourth published book. Mohan recently moved back to Hong Kong with his family after a 12-year absence which included stints in Thailand and Malaysia.
browse artist's collection
Marcel Heijnen is a visual artist, designer and musician. Originally from the Netherlands, he has called Asia his home since 1992. Self-taught in nearly everything he does, Marcel's creativity is driven by an innate curiosity about life and its meaning. He currently uses photography as the main medium for his art, exploring its boundaries in a quest for beauty and expression that goes beyond realism, but gets perhaps a little closer to truth.  
Marcel has enjoyed numerous solo and group exhibitions with his Residue series over the past few years and has taken part in a number of art fairs. He has also participated in art projects for Lomography and Samsung.
browse artist's collection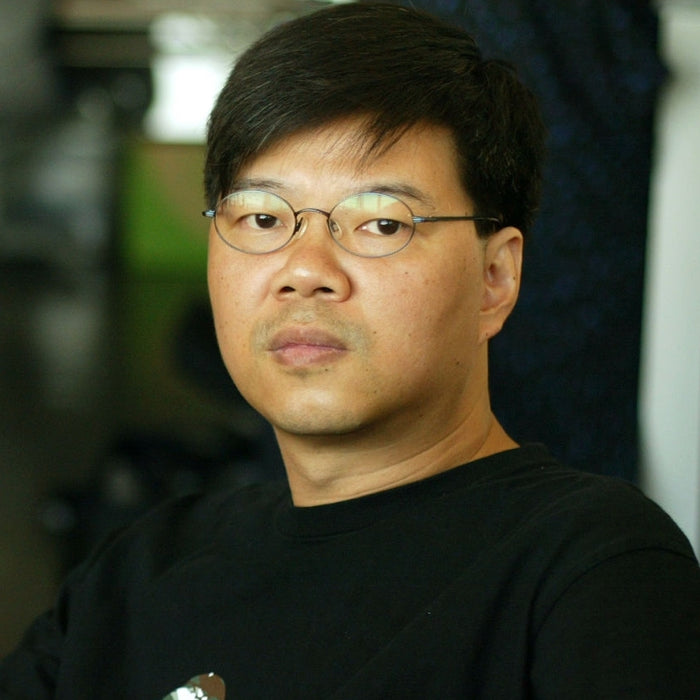 Born in Hong Kong in 1959, So Hing-keung is one of our era's renowned photographers. Also an educator, he is currently the director of Keung Imaging Workshop and teaches photography at local tertiary institutions. After gaininga BA in photographic design with First Class Honours from The Hong Kong Polytechnic University in 1994, So continued his studies in America with the Asian Cultural Council Fellowship for Photographic Studies in 1995. He was also awarded the Hong Kong Arts Development Council Fellowship forArtistic Development in 1998, and the Judges Award, Gold Awards, at the Hong Kong Institute of Professional Photographers Awards in both 1997 and 1999. Over the years, his works have been exhibited in 32 solo and 51 group exhibitions and are collected bymuseums, universities, galleries and individuals locally and overseas.
browse artist's collection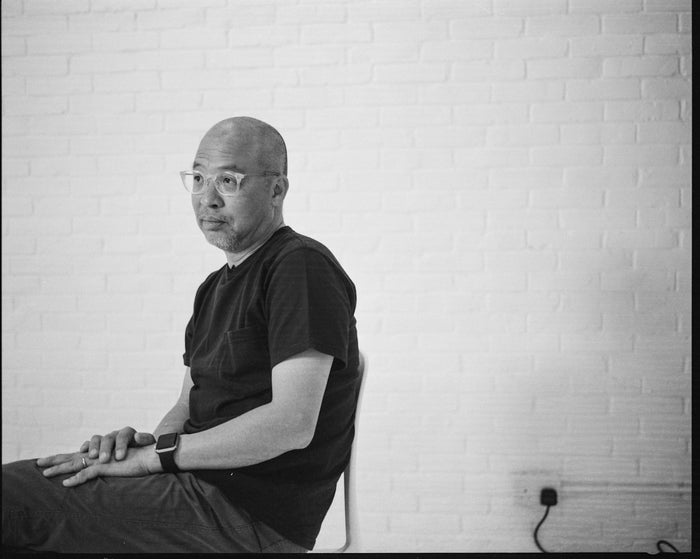 Vincent Yu has been a photographer with the AP in Hong Kong since 1989. He has covered major local and international stories, including the Athens 2004 Olympics, the Beijing 2008 Olympics, the tsunami in Asia in 2004, the Tiananmen Square crackdown in Beijing in 1989 and the earthquake in Kobe in 1985.
browse artist's collection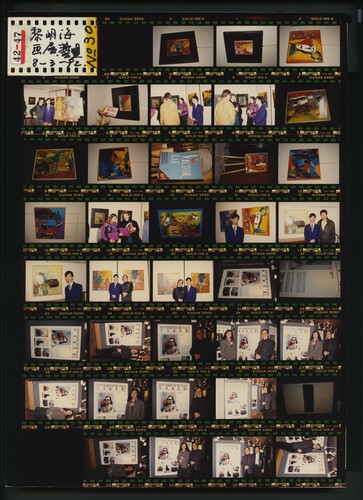 Victor Lai is an associate professor in the department of creative arts and physical education at the Hong Kong Institute of Education. He is also an honourary adviser and judge for a number of notable art-related organisations. Lai has long been an active figure in the promotion of art in Hong Kong and is himself a prolific artist.
browse artist's collection